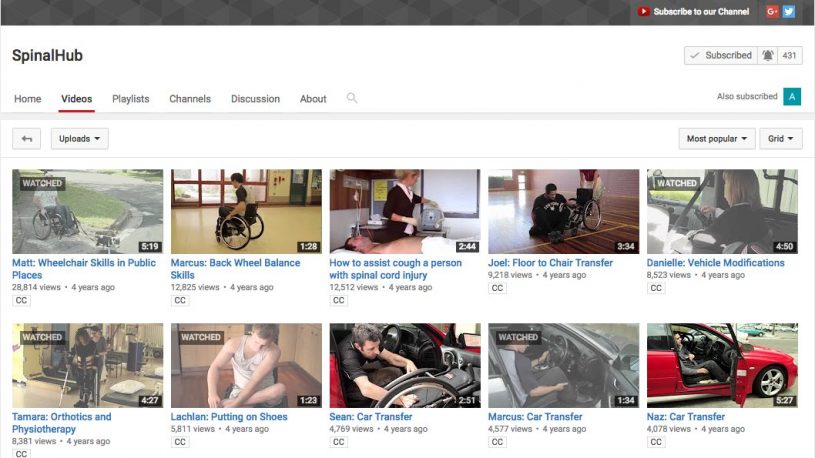 SpinalHub had launched its website with detailed consumer-friendly content for people with spinal injuries. However they were keen to expand their audience and provide a more dynamic online experience.
Briarbird saw the opportunity to use online video to expand SpinalHub's reach and impact. Our proposal and proposed approached ticked all the right boxes with the Austin Health and TAC, who were the major sponsors of SpinalHub.
Videos helped sell the message
One of the key messages of SpinalHub is to focus on what people with spinal injuries can achieve, rather than what they can't.
Briarbird developed an online video strategy called SpinalHub TV. We workshopped with staff to understand the needs and content areas, then piloted four video initial clips. We then went on to implement the strategy.
Deliberately low-res
We focused on personal stories, with people in wheelchairs demonstrating life skills. We went deliberately simple; most shoots involved only the camera operator who also recorded sound. This made us mobile and flexible. We sat at the same level as our subjects and asked them to simply explain, and show, a skill they used. These skills ranged from putting on shoes, cooking, car transfers, to playing tennis and wheelchair rugby.
We also included people suggesting tips about how to deal with common spinal injury issues such as hypersensitivity, skin care and preparing for overseas travel.
Great results
Briarbird delivered 60 video clips and re-launched the SpinalHubTV YouTube channel. We promoted the videos through social media and nurtured relationships on Facebook and YouTube. Four years on, the most popular video, Matt: Wheelchair Skills in Public Places has had over 28,000 views.
---